4.30.2004
Part 3 in an ongoing series (How to Get A Goat): Walk into a bank on a Friday Afternoon. Wait for someone to walk up to the little kiosk to fill out a deposit slip for their counter deposit. Walk up to the kiosk a few seconds later and grab a deposit slip and start frantically filling it out. Mutter "comeon,comeon,comeon" and sneak glances at the other person every few seconds. Now you have three options:

1) Fill in all the fields with bogus info ASAP so that you finish first. As you jog to the line waiting for a teller, let out a smug chuckle and gloat at your victory. When they enter the line behind you, say, "Looks like slow and steady lost the race, but I'll let you have this one." Stroll out of the bank.

2) Pretend to make a bunch of mistakes and scratch-outs. Curse loudly each time you do this. When the other person finishes first, tell them "Good game." When they take their spot in line, stare at them jealously, tear up your deposit slip into teeny pieces, throw the pieces towards the line, and storm out of the bank.

3) Actually make a deposit. This one is pretty boring. I love direct deposit.
11:53 AM by Trey |
(0)
4.27.2004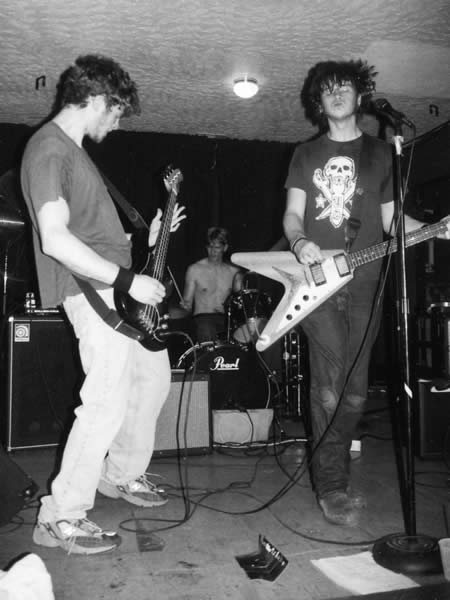 The Trashies at the Hi Ho Lounge (April 15, 2004). I'm the shirtless one.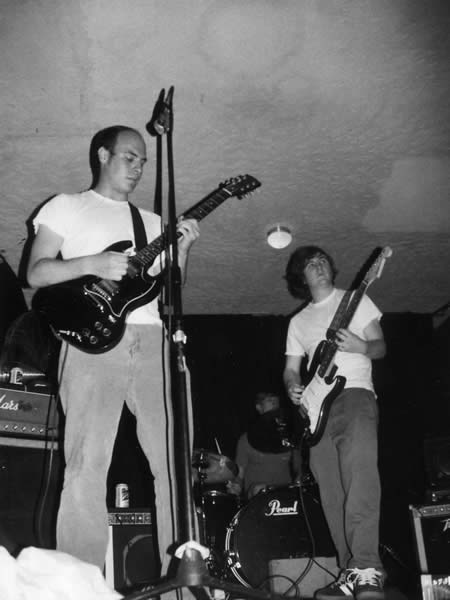 The MIR at the Hi Ho Lounge (April 15, 2004).
5:02 AM by Trey |
(0)
4.26.2004
The Truth (1):
MIR broke up last week . I will just stop all the rumors right now. And there is no use pointing fingers, because everyone knows whose fault it is: Gretchen Ramke ended the massive creative brainfuque that was MIR. I don't feel so bad about it considering that Guided By Voices, the Wu-Tang Clan, Orbital, and Denali also broke up last week. Britney Spears broke up too. You don't see me crying about that, do you? Anyhow, I am going to miss playing with all those strugglas, and I hope after the dust settles from this gargantuan split we can all be friends. Friends with benefits, if you know what I mean. Friends with 401k, full medical, dental, and oral coverage, if you know what I mean.

I was looking to fire up the old camcorder this weekend because I knew I was going to get lucky on Saturday night (2) and I wanted to film the event for future enjoyment. I ran across an old tape from my freshman year at Tulane U. The segment starts out innocently enough, with my former roommate, the illustrious Allie Prescott, walking towards the corner of Freret and McAlister clad in kneepads and wristguards. He pauses at the intersection, gathering his thoughts. Next thing you know, he is crawling on all fours down McAlister at a breakneck speed; onlookers are bewildered! As we move down the sidewalk, A GROUP OF SODEXHO-MARRIOT LADIES CROWDS THE SIDEWALK, PUSHING GODKNOWSWHAT ON THOSE GODDAMN CARTS, PEDDLING THEIR WARES, BLOCKING THE CAMERA, AND CURSING PROFUSELY! The view clears and we see Allie continue his journey. Somehow we discover that he has twelve minutes to make it to Butler Hall, while crawling on his hands and knees. Just as Jesus fell three times on his journey to Calgary, on this fateful day, we see Allie bitching three times about his kneepads chaffing and pretty much staying on the ground the whole while. As the halfway mark is crossed, Allie takes a shortcut through the landscaping outside of Mayer Hall; he looks like a panther stalking through the Jungle as he dodges shrub after shrub. In the final moments of this odyssey, Allie's statuesque body is crumpled, his chiseled features are contorted in pain, and his perfect knees are horribly disfigured and bloody. Aye, but surely this must have been worth it. Even now, we see the challenger (Grant "Quality" Gonnerman) open his wallet and start counting bills. I see, it was a bet. Allie takes the bills and holds them aloft in victory! The camera zooms in on the prize won, five $1 bills, fluttering in the October breeze.

(1) My father has a prosthetic foot. Not really.

(2) By "get lucky on Saturday night" I mean I wanted to film myself playing drums.
10:52 AM by Trey
4.12.2004
Any good apartment leads? One or two bedrooms, nice/large, uptown/Garden District. I'm looking to sign a lease ASAP.
Email me
.
I was given a very beautiful painting by Sonia on Saturday night. I am so proud of it. Definately the best gift I've ever been given. I'm going to take some pictures of it tonight.
I'll be in Jackson, MS for most of next week. I just checked out what was going on in ole Jacktown, and it looks like American Analog Set and Questions in Dialect are playing the night I am getting there. That made my month right there. I was actually listening to American Analog Set as I discovered that. I saw Questions in Dialect open for Mexico 1910 about a month ago, and they were incredible. I am actually looking forward to my business trip now. I can already taste the huge steak that I am going to order from Shapley's Steak House. I can already feel the expanse of the king-size bed I will sleep in at the Homewood Suites. I can already smell the new car odor in the Cheverolet Classic that I will rent for the drive.
Yesterday I went to my aunt and uncle's house uptown for Easter brunch. I was pretty bored for the hours after the feast and was sitting on their couch, staring into space. My grandpa motioned towards the TV and commented on how good of a golf match was on at the time. I had been entertaining myself just minutes before by playing the handhelf golf game that came with my cell phone. It is pretty realistic game, using a full-color 3D display that is completly animated. I showed him the game, and demonstrated a few shots. He was pretty impressed and stammered something about how incredible technology was these days, and walked off, shaking his head. A while later, my father came up to me and asked me to show him the televison on my cell phone that I had shown my grandfather. I laughed and laughed.
2:02 PM by Trey |
(0)
4.06.2004
My doctor told me if I don't become more flexible, I will die painfully and unable to touch my toes. So who wants to take a goddamn yoga class with me?

Our show (Mir aka Spacefriends) at the Mermaid Lounge on Saturday went pretty well. We played fix songs to a crowd of about 50 people. I didn't think about it then, but it is strange to think about the bands that I look up to that have played on that same stage. Crooked Fingers, the Faint, the Black Halos, Songs:Ohia, Verbena, Pretty Girls Make Graves, Les Savy Fav, AC/DC, the Ramones, Led Zeppelin...a long list. Playing there was very fulfilling for me, and the pressure that I felt before the show has turned into satisfaction...and a MASSIVELY INFLATED EGO! God, I am cool. Really really cool...

If you told me you would come to the show, and you didn't, you are dead to me. We are no longer friends.
11:18 AM by Trey |
(0)